Lent starts on Ash Wednesday 6th March.  Then for six weeks we are called to make a special place for God… to return to God and in so doing be refreshed.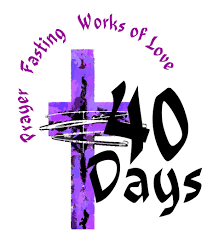 This year we are linking in to the online materials 40acts click on this link to see how you can change you life this Lent:
link to 40acts
We try really hard at St Werburgh's to provide different kinds of activities and events that will help us all in our different ways to do that.
Lent programme
I am asking you… YES YOU… to take Lent seriously this year… the input is not just for the holy few, we are all holy to God and therefore all of us are worthy of taking some time… making some space… and doing something.  When we do that we also support those around us on the journey… so whether you're 6 or 96, new to church or not even a worshipper,  there is something going on in the parish for you over the next few weeks.
…come and see!  Fr Julian.
Holy Week