Under COVID-19 regulations it is not possible for us to undertake the ministry amongst children and families we have come to expect.  The large services simply cannot be made safe and the danger of such an event causing a spike in COVID-19 transmission during the Christmas period is too great a risk.
However we are planning different activities which can help us truly journey towards Christmas and perhaps recover what this season is truly about.  Our focus for all our celebrations is going to be quieter and more in our homes which is perhaps something we can see as positive this year….
Parish Facebook Advent Calendar / making everyone know they are loved..
As part of our journey through advent, we would like to invite you to join us on Facebook everyday as we open our virtual advent calendar. Sorry no chocolate in this one! But we do have an idea on what you can do….it would be great if you could make a picture or write a poem or prayer or even a story based on the advent calendar pics which we can then send to people who live on their own or who are isolated. It's a wonderful way to make people who are feeling lonely know that we care about them. All you have to do is place your art, your poem or whatever in an envelope with a message. Please leave the envelope open and you can post it in the post box inside the doors at church on your way to school or on your way home from school. Church is open 8am – 4pm Mondays to Fridays and 11am – 3pm on Saturdays and Sundays.
The Nativity in Pictures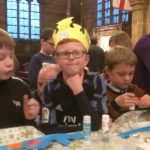 During children's church we are very often getting creative and the children all enjoy sharing their works of art at the alter on a Sunday. Covid has unfortunately meant that we have been deprived of this joy but we would love it if we could share some of that joy again over the Christmas period. In the newsletter each week on the run up to Christmas there will be a picture template for the children to work their magic on and get creative. The pictures will all be different scenes from the story of the nativity.
We then hope to be able to display these outside the church
before Christmas so that we can bring a little colour to the railings
and we can all look and admire their efforts in a socially
distanced way. The children are also welcome to create their
own works of art that are not in the templates along the
Christmas theme. The children can post their pictures in the post
box inside the church doors, church is open 8am – 4pm Mondays
to Fridays and 11am – 3pm on Saturdays and Sundays.
This week's picture is of the angel, please find it at the end of the NEWSLETTER 
Kids Christmas Service online.
Christmas Eve 3.30pm
A Twenty minute service telling of the Christmas story with online music, activity and the Christmas Story, probably Fr J being a bit of a fool!  Simply go to the Facebook page and we'll be there!
Epiphany Messy Church
At present we don't think we will be able to have a Messy Church live in or outside, but we will wait to see…
We are planning a Messy Church Zoom on Saturday 9th of January.  Get in touch HERE  to book a place and get a Zoom invite..